In a City where the condo sizes keep shrinking, it's good to know a few of the larger ones are still kicking around… In fact  not only are they still around, they are being redesigned and remodelled to look just like (if not, better) than their younger counterparts!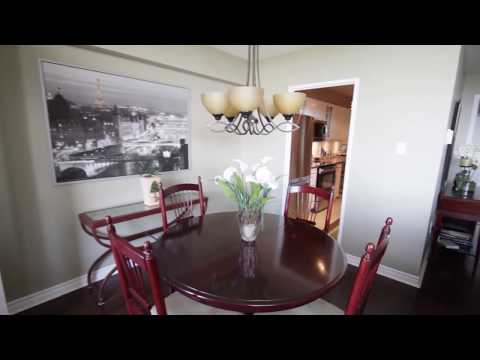 Roughly three years ago, I sold a large 1200 sq.ft 2 bedroom condo to clients of mine. Returning 3 years later, my jaw dropped when I saw the transformation that took place!  The old vinyl tiles that once welcomed guests were replaced with modern ceramic tiles.  The dated closet door swapped for a much more tasteful design… long gone are the mustard coloured walls – instead a natural and lighter colour accented with baseboards outlines the main foyer.
My eyes were instantly drawn to the gorgeous (egnireed) hardwood floors that covered the main living and dinning room areas. When they bought the place it came with carpets, which did nothing but "date" the unit.  The new floors give it a fresh look and feel great to walk on!

Next up came the kitchen.  This is where the biggest changes took place…  Gone are the low ceilings, painted cabinets and appliances that very little life left in them.  Just like the foyer, the vinyl floors were peeled off and new ceramic tiles installed. In fact, aside from the four walls outlining the kitchen – very little of the original kitchen remains!

The combination of the white subway tile back splash and under-mount lighting, highlight the contrast in the counter tops and stainless steel appliances!
They really did think of everything when doing the renovation, including a breakfast bar for the mornings! When dinner rolls around, there's a dedicated spot tucked perfectly between the main living area and kitchen.
They even custom sowed window coverings to perfectly fit the large picture window! The dining area continues with the floors and freshly painted walls.  It also includes a walk-out to a massssssive balcony.  Measuring in at about 14 meters wide, there's plenty of space for entertaining outside. A new "storm door" and tempered glass door with blinds have been both installed on the balcony too!
The condo features 2 four piece bathrooms, one in the main living area and the second in the master bedroom!
Most modern condos can boast having a washer and dryer available in the unit, but how many come with their very own room?
And if you're still looking for storage, there's a pantry just off of the laundry room for towels and cleaning products!
One feature that really drew my clients to purchase the place was it's HUGE master bedroom! Complete with walkin closet and ensuite bathroom, you'll find no shortage of space. Newly installed carpeting, light fixtures and even a custom book shelf have been installed in the master bedroom!

The second bedroom is equally generous in size and offers plenty of space for a desk and storage!
And now for the best part of the condo… the price! For $250,000 you get a fully upgraded condo that's quick and easy to move into! Maintance fee's at $601 a month and even includes basic cable.  At around 1200 sq.ft., that's even cheaper than many downtown towers! There is one parking spot and one locker included in the purchase price along with the main kitchen appliances, clothes washer/dryer and all existing electric light fixtures!
The building has an outdoor pool, playground, small library and a TTC bus stop in front of the building!  If you'd like a tour of the condo, contact me… I'd love to help!
Does your home included ELF's? How about the GdoR?… and what about the CAC – is it included in the monthly maintenance?"
Realtors are infamous for using a slew of short forms and abbreviations, that often make listing look like cheesy classified ads in newspapers. The reason for this is that the MLS limits the amount of characters one can use to describe a home. Those in the biz, and hardcore property hunters probably know what many of these short forms mean… but for everyone else, I've made a little list below to help understand the lingo!
Apt – (Basement) apartment
A/C – Air Conditioner
CAC – Central Air Conditioner
Appx. – Approximate
B/I – Built In
B/I/DW – Built In Dishwasher
BKFST – Breakfast room
Bldg – Building
Brdlm – Broadloom carpeting
Bsmt – Basement
CVAC – Central Vaccum
DFT – Deal fell through
DOM – Days on Market
DR- Dining Room
Dryr – Dryer
ELFs – Electrical Light Fixtures
Exh – Exhaust
FAG – Forced Air Gas
FLRs – Floors
GdoR – Garage Door Opener Remote
GB&E – Gas Burner and Equipment
Hwt(r) – Hot Water Tank Rental
I/G – In ground
Mnths – Months
O/Looks – Over looks
Pvt – Private
Pwdr – Power Room
RREA – Registered Real Estate Agent
TBA – To be announced
W/O – Walk out
Yr – Year
Happy New Years y'all!  I'm excited to be spending my first day of the year doing something I truly missed in 2012… writing.  My blog was (and still is) the biggest and best tool I have to share my experiences and life in the real estate game. Last year was the busiest for me, and as a result the updates and quality of the posts suffered more than Rob Fords media relations!
I've spent the better part of my Christmas holidays brainstorming and planning a much more structured 2013.  At the heart of my plans are more frequent blog posts as well as a closer look at individual buildings in the downtown core.  I want to touch on more local topics and share some of the gems our City has to offer.
Looking forward to making this year the best one yet,
Mark
So you've finally found your home sweet home! The papers have been signed, the trucks unloaded and the movers paid -time to relax, right? NOPE… As you'll quickly learn with home ownership, there's always something to do!
This final step in the home buying process is quick, easy and can even save you a ticket or two!  In Ontario it's your responsibility to notify the appropriate department of an address change.  Failure to do so can result in a ticket during a road stop, or worse – a longer delay at the hospital.  To save some time, I've included links to several sites that will allow you to update your information in a few clicks!
Driver's Licence, Vehicle Registration, Health Card and Outdoors Card –  Ontario.ca can update these 4 cards in a few clicks.  Visit the "Change Your Home Address" page to get started.  There is no fee to complete the change and the whole process should take about 15 minutes.  Be sure to read the tips provided on the site before you begin!
Canada Post Permanent Change of Address – Canada Post allows you to redirect your mail from your old address to your new address, and all online! Several features of the service include: having 4 individuals or 4 families moving to the same address in one residential request, having 2 businesses and 2 individuals moving to the same address in one business request, redirects your mail for 6 or 12 months (your choice), and is available for moves in Canada and internationally.  From my experience, some mail may still go to the old address so it's a good idea to speak with someone at your previous place and ask them to hold any mail that comes in!
The above two are the most important, but certainly not all of the people you'll need to contact.  Below are a few others:
Phone and Internet Companies - In today's age of dependence to our cell phones and internet, many buyers set this change up before any of the others listed above!  For the few that may have forgot, be sure to call your provider and alert them of their new address.
Place of Employment – Contact your HR department to avoid any delays in pay cheques that may be sent to the house.
Banks and Credit Cards – With all the fraud out there, updating your info with the banks and credit card companies is crucial in the event your card is compromised.   Plus if you move to a totally different part of the province, the change of location in your spending habits may set off an alert to lock down your card for security (happened to a past client of mine). It can quickly be corrected by calling in, but by changing your address in advance you'll save that extra time on hold!
Library cards, gym membership and any other group that you belong to should also be updated.  A great tip to ensuring everything has been updated is by pulling out all the cards in your wallet and creating a list of places to notify!
Happy moving!
The lack of posts on the blog is directly related to the increase in activity, but not to worry… I'm back, busy, and ready to blog!
By the first week of January appointments on my listings started to really spike and the emails started pouring in from people interested in buying and selling.  I had taken a client of mine into a loft conversion that we'd been eying for some time.  A few hours after the listing went live, I booked us an appointment with the hopes of being the first ones in… 3 others had already previewed the place before us.  My client loved the space so much that within an hour of viewing the unit we had an offer printed and ready to present. Luckily for the both of us we moved fast.  The next day another 7 appointments were booked.  Because I was able to secure the unit for my client the night before we narrowly avoided participating in multiple offers… others weren't as fortunate.
I've seen several new condo listings in the downtown core with the ever famous "Offers if any, reviewed on the xx of January".  For those not in the biz, this is one of the many signs that it's a sellers market and that there are more buyers than there are sellers!  When this happens, the negotiating power isn't heavily the purchasers side BUT I still think it's worth while to look.  I'm not a fan of paying several thousand dollars more than what a unit is worth, and I'd never suggest a client do that either… but if that dream layout and your desired building does become available, I say go for it just be aware of what comparables have sold for.  If your fair priced offer isn't accepted don't loose faith…another one is always out there!  Sellers, instead of waiting for the spring market I'd suggest prepping you're unit for sale a lot sooner.  It's only a matter of time before others get word of the increase demand and start listing their places.
On the preconstruciton side of things, 2011 is promising several great launches through out the City.  Projects gearing up for future phased launches and those looking to move last years inventory have started offering a variety of incentives. Throughout the week I'll be spotlighting a few with great perks!
If you're looking to live Downtown, I'd love to help!
You haven't truly sold Real Estate until you've sold a co-op!
Co-op's are a form of ownership wildly popular in New York yet not that common in Toronto. They're typically cheaper to purchase when compared to a condo unit. The price of co-op units makes them ideal for a first time purchasers. The term "co-op" is commonly associated with government supported housing, yet many have no relation and are run entirely by the residents and property manager.
The unique location of my listing is on the border of two sought after communities. The building is located on 1648 Bathurst and has Forest Hill to the East and Cedarville to the West! The shops and restaurants of"Upper Village" are minutes away on Eglinton. Loblaw's and the St. Clair subway station can be found to the South.
The building has a ton of character with a welcoming Tudor style exterior. Typical units in the area are reflective of its time and are rarely updated. I helped my client purchase in the co-op a while back and was amazed when I saw how she transformed the place! Here is what it looked like before the renovations:
From your first visit, you'll notice that this isn't you're typical co-op! The owner has extensively updated the look and feel of her place while still respecting the character and charm originally built into the unit. The walls have been recently painted to give the area a warm feel. The kitchen went through a massive overhaul with the old finishes removed and a much more modern style applied.  The dull white cabinets, the laminate countertops and the basic appliances have been replaced with granite counterops, mahogany coloured cabinets, glass blacksplash and stainless steel appliances.  And now, the after photos:
The living area which was once painted in 2 clashing hues of yellow has been transformed with a floral wallpaper and warm coloured complimentary wall!  My client has preserved the character of the imitation fireplace by giving it a fresh coat of paint.  I particularly love the inlay around the base of the fireplace…that level of work is rarely seen these days.  Oh, and did I mention the hardwood???  Yes I said hardwood NOT laminate!  Try finding that in a newly built condo!
And check out the video!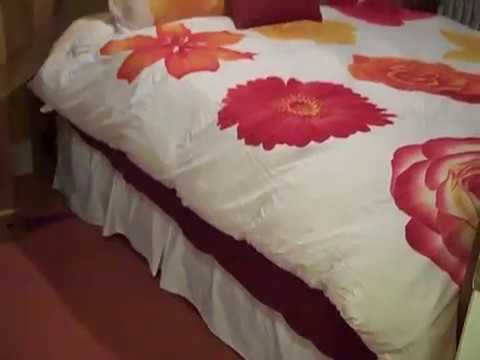 Laundry is available in the lower level of the building and there is a parking space available for rent!  The unit is placed on the main level, at the rear of the building which allows for quite conversations without the noise of traffic.  The maintenance fees include property taxes, hydro, water and heat.
You can learn even more about the listing on my SavelSells website or feel free to contact me for a private showing!
The new "How Realtors Help" Commercial will be hitting the airwaves just in time for the fall market. Look for it on a TV near you, or check it out on the How Realtors Help website!
Read the rest of this entry »