Posts Tagged 'new listing'
You haven't truly sold Real Estate until you've sold a co-op!
Co-op's are a form of ownership wildly popular in New York yet not that common in Toronto. They're typically cheaper to purchase when compared to a condo unit. The price of co-op units makes them ideal for a first time purchasers. The term "co-op" is commonly associated with government supported housing, yet many have no relation and are run entirely by the residents and property manager.
The unique location of my listing is on the border of two sought after communities. The building is located on 1648 Bathurst and has Forest Hill to the East and Cedarville to the West! The shops and restaurants of"Upper Village" are minutes away on Eglinton. Loblaw's and the St. Clair subway station can be found to the South.
The building has a ton of character with a welcoming Tudor style exterior. Typical units in the area are reflective of its time and are rarely updated. I helped my client purchase in the co-op a while back and was amazed when I saw how she transformed the place! Here is what it looked like before the renovations:
From your first visit, you'll notice that this isn't you're typical co-op! The owner has extensively updated the look and feel of her place while still respecting the character and charm originally built into the unit. The walls have been recently painted to give the area a warm feel. The kitchen went through a massive overhaul with the old finishes removed and a much more modern style applied.  The dull white cabinets, the laminate countertops and the basic appliances have been replaced with granite counterops, mahogany coloured cabinets, glass blacksplash and stainless steel appliances.  And now, the after photos:
The living area which was once painted in 2 clashing hues of yellow has been transformed with a floral wallpaper and warm coloured complimentary wall!  My client has preserved the character of the imitation fireplace by giving it a fresh coat of paint.  I particularly love the inlay around the base of the fireplace…that level of work is rarely seen these days.  Oh, and did I mention the hardwood???  Yes I said hardwood NOT laminate!  Try finding that in a newly built condo!
And check out the video!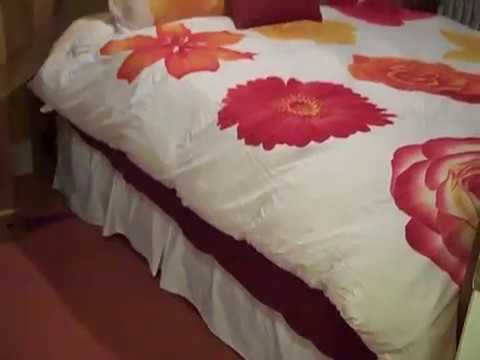 Laundry is available in the lower level of the building and there is a parking space available for rent!  The unit is placed on the main level, at the rear of the building which allows for quite conversations without the noise of traffic.  The maintenance fees include property taxes, hydro, water and heat.
You can learn even more about the listing on my SavelSells website or feel free to contact me for a private showing!
I felt as if Real Estate was starting to get really boring… again! More than text and photos, I believe the public wants to be engaged and given more than warped virtual tours and abbreviated descriptions i.e. "cndo 4 sle, ull luv it. gr8 $$$"
That's why: From now on, all my listings will feature a video showing A LOT more than words can ever say! What's even better is that you'll be able to watch the video right from your mobile phone! Scan the barcode below from your phone for an example of my marketing in action!
Thinking of selling, i'd love to help…wow, i talk really fast!
The wait is over for residents of the Murano Towers at Bay and College.  By month end all units in both towers will have completed final closing meaning residents can now list their units for sale (or rent) on the MLS. The two glass towers standing at 45 and 37 stories respectively is located on the east side of Bay Street between Grenville and Grosvenor, immediately north of College Street.  The North tower is just about finished with construction in the South tower not far behind.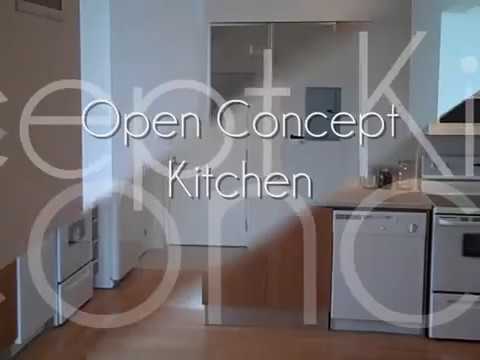 I've listed a very unique one bedroom unit on the 38th floor! The condo has one of the largest dens on the market! It can easily be used as a second bedroom, study or nursery. 9 foot ceilings surround the space and help accentuate the open concept feel. After a busy day in the City, residents can unwind in the many amenities such as sauna, hot tub or pool with retractable roof. Stay in and enjoy the views (see above) or go out and take in the city… you're only steps away from one of the longest streets in the world! The University of Toronto, Hospitals and TTC is all within steps of the condo.  Grocery stores like Metro can be found to the South and a 24 hours Sobey's to the North. 
The seller is including the following: brand new dishwasher, stove, microwave, fridge, light fixtures, locker, closet organizer, stacked washer and dryer. Furniture may also be included. Views like this won't last long! 
The common area patio (with BBQ's) is still undercontruction and the retail space on the podium is yet to be filled.  Once completed finished, Murano will offer a ton of amenities and shops for it's residents.  They have 24 hour security on site and monitoring the building and a lot of visitor parking below!  If you're working with a Realtor tell them you'd love to see this listing…if you're not working with one, tell me!…i'd love to help. 
If any residents are interested in selling at this time…i'd also love to help!
I spend a lot of time downtown; eating, living and most importantly WORKING.  One of the great advantages that I can offer my clients is knowledge, and specifically in the downtown core.  Before even getting into the business I spent over 3 months building (what I thought at the time) "THE ULTIMATE GOOGLE MAP." I had everything from condos to grocery stores and even side streets with free parking.  The map (which I still use) is a great tool that helps better inform my clients of the features and amenities located around their future home.  As I spread out to different parts of Toronto, I'm faced with the problem of creating similar maps for the rest of the city…that was until I stumbled across the ZOOCASA website.
In a nutshell, the website is a similar public version of the googlemaps I had created…except on steroids (actually unlike steroids, they're perfectly legal).  These guys cover it all, from schools and daycares to gyms and bowling alleys!!  I was really impressed with the level of detail ZooCasa went into, especially with school info.  Just type in the neighbourhood you're interested in researching and in seconds a list of schools pops up. They even have the Provincial Testing results (provided by the Fraser Institute).  BUT WAIT, it gets better.  Aside from area features and schools it also provides something that really caught my eye…LISTINGSSSS!  You can browse available homes/condos for sale in your search area and in a few clicks get tons of info on the property as well as options to contact the brokerage for more info. 
Ever since I've taken the step on to Twitter (@SavelSells) for those who haven't connected with me yet) I've met a ton of creative people with a lot of passion for the profession.  One of my earliest followers was BuzzBuzzHome (@buzzbuzzhome).  I followed them back mainly because they had some interesting real estate 'tweets' and a great blog to boot!
Fast forward a few months, and they've expanded from an informative blog, to solving a huge gap in the pre-construction condo market. For years, there's been no centralized place for the public…or even Realtors to get a list of up and coming condos.   In the past the only way to get this info was to; search the newspapers, read up on blogs or drive around the city. Problem solved with the new buzzbuzzhome webpage!
It's very user friendly and extremely easy to find tons of info on new developments in the city.  What I particularly like, is they're not affiliated with any real estate brokerages and provide info from an unbiased 3rd party point of view.  Some projects on the map are also sponsored by the developer of the condos  and offer additional info such as price, description and photos.  I had the chance to meet up Matthew Slutsky and Clifford Peskin, founder and co-founder of BuzzBuzzHome.  They've started with tracking developments in Toronto but have big plans to expand and cover other Canadian cities as well.
It's a great tool and one that I personally use!  Find out what all the 'Buzz' is about and check out their site.   Once you've found that perfect project and are ready to take the next step give me a call…i'd love to help!
What an amazing listing!!!
A sales representative in my office, Lori Bennett has just listed a very special home.  What makes it so unique is that it caters to a way of life, that in my opinion, doesn't get enough attention.  The spacious renovated bungalow has been designed to give special needs families the comfort they need and the privacy they deserve.
The sellers have upgraded their home with lifts and built-in's to accommodate wheel chair or elderly access.  It also has 2 full kitchens on the main floor with one designed for complete cooking at wheelchair height.  The  bathroom was made specifically for wheelchair use and to give the user independence!  3 spacious bedrooms can be found on the main floor and include a 3 piece bathroom in each.  Check out the pictures below: Read the rest of this entry »
As anyone who watches HGTV knows, the #1 thing to consider before buying real estate is location, location, location and this particular project has all three.  Located just pass the hustle and bustle of the busy strip known as King West, you'll find a much more quite yet sophisticated King East.  Venture past some of the best home decor stores and you'll arrive at the future home of The King East (330 King St E). 
This 15 story condo is currently in the pre construction stage and has been for about a year, but just this week I've recieved emails advertising  tons of affordable units still available.  Prices range from $420 per square foot and up.  Unit sizes go from studios with 310 sqf (yes you read right) to 2 bedroom units with a more spacious 840 sqf layout.
Other notables of the area include: George Brown College a few blocks west (great for those considering the Condo as an investment with rental potential), The Distillery District a few blocks south (a hip place to meet up with friends) and a short commute to St. Lawrence Market (an amazing place to pick up fresh food!!)
Check out some of the show room photos below:
Read the rest of this entry »