Posts Tagged 'Must Have Mondays'
Let's face it, the Monday after St. Patty's day is never an easy start… so grab your Blarney stones and listen up, because my good friend Corinne Korytkowski has some green coloured inspiration to brighten up your week and winter!
After a long, cold and dreary winter, there's no better way to celebrate the energy of a new season than to spruce up your home. With spring right around the corner, it's the perfect time to freshen things up. Some spring cleaning might mean that you toss out those items you've been hanging onto for years "just in case you need them". You might also decide that you need to change your decor. After all, your home is your sanctuary – you should feel great in your space. This year's trending colour will definitely add some spice to your life. Emerald green is proving to be the hot colour of 2013.
Incorporating a new colour really doesn't take much. An accent chair, brand-spanking-new throw pillows or even a lamp can instantly change the feel of your living space. Introducing a new colour accent will always add a new dimension to a room. As Lisa Reis of Decorista.com explains, "If you're tempted to use this vibrant colour but are a bit paint shy…try emerald green with something that's easily replaced: lamps, vases, small appliances, curtains or chairs. Even if you grow tired of the colour in a few years, it may bring you out of your shell." For those who are more bold, a new coat of paint (even just an accent wall) can really make a difference.  The most important thing is to have fun with it all. Head out on a sunny weekend for a stroll through your favourite home furnishing store and find pieces that make you smile. Life is too short to live in a space that doesn't inspire you.
Corinne Korytkowski is a Brand Coach + Consultant who works with entrepreneurs to create business opportunities around the skills and passions that drive them… she's been busy working on a crazy cool website that you'll totally want to check out in the coming weeks!
Long gone are the days of finding a screen only in the living room! With mobile screens making their way into more rooms than ever before, so it's only natural to have an iPad in the kitchen these days!
The problem is, kitchens aren't typically as iPad friendly as the living room.  There's nothing worse than adding a tablespoon of hot sauce to your tablet, and thankfully the Belkin Kitchen Cabinet Table Mount can save you from such a disaster!
The mount can be installed to almost any cabinet in seconds and offer a secure place out of harms way for the iPad.  Adjustable to all 3 types of iPads, the Belkin mount is made of a sturdy, commercial-grade clamp an adjustable rubber brace that adjusts to fit tablets ranging from 7 to 10 inches. It is also case compatible for added convenience. When not in use, the mount fits into most kitchen drawers.
It's sell's for about $50 online and can be bought directly from Belkin
I don't know if it's just "a guy thing", but it seems like us males have a strange obsession with watches… and I'm no exception to the rule!
A photo of my dream Rolex Cosmograph Daytona Oyster, 40 mm, Yellow Gold hangs on the office wall as a goal of what I'd one day hope to own…  until then I've been feeding the obsession with a variety of other brands and styles.
The latest is a limited edition French designed, Swiss made concrete watch made by Dzmitry Samal!  One of the most common materials found in the modern-day City is being incorporated into a watch.  The outer shell will be cast in concrete with a rubber strap and pin buckle.
To say I've become obsessed with the concept is an understatement.  Dzmitry shys away from the typical gold/silver/platinum often used and went with a much more realistic and topical material. The "hands" have skyscraper cutouts to complete the metropolitan look.  If concrete is good enough to hold up our City, I say it's good enough hold time!
Dzmitry Samal started his career as a car designer for Italian and French car manufacturers such as "Stile Bertone" and "Renault" but has now made the leap into fashion and design!
He's making only 100 pieces, each numbered and available online!  They range in price from $980-$1240 Euros and will be ready in late November.  Until then, check out the designs below:
You've gotta love Mondays… Long gone are the worries of last weeks marathon-running-traffic-disruptions, protesters occupying parks and Blackberry's breaking down!
Typically, I try to pick items of value that can enhance the condo living lifestyle for my Must Have Mondays… but after all of last weeks headaches, I've decided to choose an item that's totally impractical for everyday living, yet soooooo necessary after a stressful day.
Stephanie Marin, a French designer living in the Côte d'Azur, has created a collection pillow sized pebbles for your indoor and outdoor space.  The large pebbles, or Livingstones as they're officially called, are covered in 100% virgin wool and come in a wide range of sizes, shapes, and colours. Just imagine how comfy a den full of these things would be to jump into!
Each order is custom-made and takes about 8 weeks to complete.  No prices were posted online, but they do have a Canadian distributor - Roche Bobois
This weeks Must Have Monday comes to you "Live from the Hive"… that's an inside joke BuzzBuzzHome co-founder Matthew Slutsky shared while I visited their new office last week!  The busy BuzzBuzzHomies have expanded their colony quite a bit since I first wrote about them back in June of 09 and have since moved into a more spacious home in Liberty Village.  The new office is absolutely stunning and great fit for the team, but the real show stopper is the matching Pukul Lima Wood Tables the two head huncho's have in their office.  Matthew had this to say about his newest additions:
"BuzzBuzzHome doesn't just like large tables, we love them. They are one of the cores of our office community.
Groups working around large tables easily lends itself to easy collaboration, and a socialble work environment.
When we moved to our new office, we wanted some new awesome tables; tables that fit our "large-table" community, and also blended well into the brick-and-beam design of the office.
We toyed with the idea of over-sized antique executive desk, raw pine "Brad Pit" dining room tables, and cheap dining room tables. We hunted through furniture stores, and at the last minute we found the
RusTeak
wearhouse and spotted some Indonesian pukul lima wood tables (aka the Five o'Clock tree, aka the Rain Tree").
Read the rest of this entry »
The "workplace" has evolved over the years!  Long gone are the days of putting in a 9-5 from the office…today the office could be just about anywhere.  As more people make the change and work remotely from home, a whole new category of furniture is being created!
This weeks Must Have Monday piece was suggested to me by a blog reader!  He found this Wooden Laptop Stand on Gizmodo.com and sent in an email.  After one look at the stand, I knew it was blog worthy!
For those living in a smaller space where a den is not possible, the laptop stand is a perfect problem solver. It can turn your favourite chair into a office desk within seconds. The stand is fully adjustable allowing the user to get the laptop positioned juuust right. There's a platform for a mouse and even a lower level stand for a phone (or drink)…and when not in use, the wood and steel combination give the stand a contemporary look for your condo space!
The stand comes in a variety of options and is made in Verona, Italy by Lounge Tek. They ship to Canada and a variety of other locations around the world!  Check out their promo video below: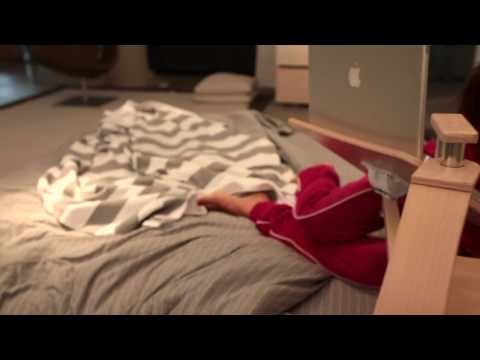 If you have an item that you think is worthy of being displayed in my "Must Have Mondays", send me an email and i'll give it a look!
(photo from Gizmodo.com)
For the condo dweller who's philosophy is "the skies the limit", this weeks item is for you!
It's called the "Aviator Wing Desk" and is a classic throwback to the World War Two era. The frame of the desk is made from solid hardwood, wrapped with aluminium patch work and held together with steel screws.  It'll set you back $2200 (American) in pocketbook, but will also earn you some serious stripes for it's cool factor.
The winged looking desk is one of those pieces that gets better with time… a couple of dings and scratches over the years would do the desk good by adding to the character of it!  Here's a few more pictures:
Read the rest of this entry »