In a City where the condo sizes keep shrinking, it's good to know a few of the larger ones are still kicking around… In fact  not only are they still around, they are being redesigned and remodelled to look just like (if not, better) than their younger counterparts!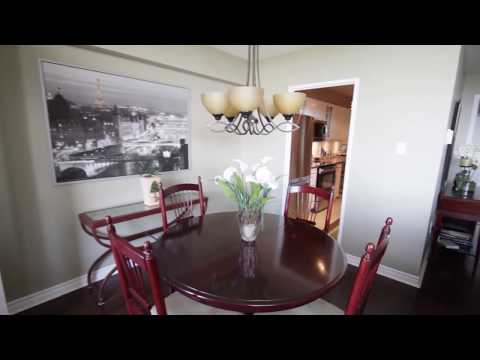 Roughly three years ago, I sold a large 1200 sq.ft 2 bedroom condo to clients of mine. Returning 3 years later, my jaw dropped when I saw the transformation that took place!  The old vinyl tiles that once welcomed guests were replaced with modern ceramic tiles.  The dated closet door swapped for a much more tasteful design… long gone are the mustard coloured walls – instead a natural and lighter colour accented with baseboards outlines the main foyer.
My eyes were instantly drawn to the gorgeous (egnireed) hardwood floors that covered the main living and dinning room areas. When they bought the place it came with carpets, which did nothing but "date" the unit.  The new floors give it a fresh look and feel great to walk on!

Next up came the kitchen.  This is where the biggest changes took place…  Gone are the low ceilings, painted cabinets and appliances that very little life left in them.  Just like the foyer, the vinyl floors were peeled off and new ceramic tiles installed. In fact, aside from the four walls outlining the kitchen – very little of the original kitchen remains!

The combination of the white subway tile back splash and under-mount lighting, highlight the contrast in the counter tops and stainless steel appliances!
They really did think of everything when doing the renovation, including a breakfast bar for the mornings! When dinner rolls around, there's a dedicated spot tucked perfectly between the main living area and kitchen.
They even custom sowed window coverings to perfectly fit the large picture window! The dining area continues with the floors and freshly painted walls.  It also includes a walk-out to a massssssive balcony.  Measuring in at about 14 meters wide, there's plenty of space for entertaining outside. A new "storm door" and tempered glass door with blinds have been both installed on the balcony too!
The condo features 2 four piece bathrooms, one in the main living area and the second in the master bedroom!
Most modern condos can boast having a washer and dryer available in the unit, but how many come with their very own room?
And if you're still looking for storage, there's a pantry just off of the laundry room for towels and cleaning products!
One feature that really drew my clients to purchase the place was it's HUGE master bedroom! Complete with walkin closet and ensuite bathroom, you'll find no shortage of space. Newly installed carpeting, light fixtures and even a custom book shelf have been installed in the master bedroom!

The second bedroom is equally generous in size and offers plenty of space for a desk and storage!
And now for the best part of the condo… the price! For $250,000 you get a fully upgraded condo that's quick and easy to move into! Maintance fee's at $601 a month and even includes basic cable.  At around 1200 sq.ft., that's even cheaper than many downtown towers! There is one parking spot and one locker included in the purchase price along with the main kitchen appliances, clothes washer/dryer and all existing electric light fixtures!
The building has an outdoor pool, playground, small library and a TTC bus stop in front of the building!  If you'd like a tour of the condo, contact me… I'd love to help!
Does your home included ELF's? How about the GdoR?… and what about the CAC – is it included in the monthly maintenance?"
Realtors are infamous for using a slew of short forms and abbreviations, that often make listing look like cheesy classified ads in newspapers. The reason for this is that the MLS limits the amount of characters one can use to describe a home. Those in the biz, and hardcore property hunters probably know what many of these short forms mean… but for everyone else, I've made a little list below to help understand the lingo!
Apt – (Basement) apartment
A/C – Air Conditioner
CAC – Central Air Conditioner
Appx. – Approximate
B/I – Built In
B/I/DW – Built In Dishwasher
BKFST – Breakfast room
Bldg – Building
Brdlm – Broadloom carpeting
Bsmt – Basement
CVAC – Central Vaccum
DFT – Deal fell through
DOM – Days on Market
DR- Dining Room
Dryr – Dryer
ELFs – Electrical Light Fixtures
Exh – Exhaust
FAG – Forced Air Gas
FLRs – Floors
GdoR – Garage Door Opener Remote
GB&E – Gas Burner and Equipment
Hwt(r) – Hot Water Tank Rental
I/G – In ground
Mnths – Months
O/Looks – Over looks
Pvt – Private
Pwdr – Power Room
RREA – Registered Real Estate Agent
TBA – To be announced
W/O – Walk out
Yr – Year
One of my goals for the year is getting back to basics and bringing a more organized system into my business!  Most of this is happening behind the scenes and should be fully rolled out by late Spring…
One of the things I'm most excited to bring back is my Daily Photos!  A few years ago (when blackberries were still cool), I would post a pic a day from my adventures in the City.  Recently, the platform I was using shut down services leaving me scrambling for a place to host my photos.  I'm now back in business thanks to Instagram and am excited to share all the sights this City has to offer!
You can check out my daily photos on the side bar of the blog or visit the entire collection over at my Savel and the City daily photo page! Below are a few of the places I've seen in the last week:
You should never throw stones at a glass house, or so the Bible says… but how about a glass condo?
The media has been "hurling rocks" at the variety of issues surrounding glass as a material for building condos, and for good reason. From falling balconies to leaky windows, the use of glass in a City with such diverse climates as Toronto is a questionable one.  With a spike in the number of glass condos already built and a slew more being completed in the coming years, it's time we talk about the future of these towers and how're they're built!
On April 30th PUG Talks is hosting a discussion specifically on this topic – The Future Of The Glass Tower!  It will be moderated by Matthew Blackett (Spacing Magazine, Publisher, Creative Director and Co-founder) and debated by a panel consisting of David Pontarini (Hariri Pontarini Architects, Founding Partner),  Graeme Stewart (E.R.A. Architects, Associate) and the visionary that developed the "Marilyn Monroe" (pictured below) condos in Mississauga - Sam Crignano (Cityzen Developments, President).
The event is being held at 6pm at The Art Gallery of Ontario, Seminar Room 1(Weston Family Learning Centre). I'm definitely going to be on hand, and can't wait hear the argument for each side! Please RSVP early as seats are filling up quick! http://www.pugawards.com/pug/talk/pug-talk-april-30-2013
I'd love to hear what you think? Take the poll below:
Loading ...
Spring is in the air… and so is the STUPIDITY!
These last few weeks have been a busy, and rather interesting one.  I've been swamped with condo showings and introduced to some really odd practices by condo corporations and their front desk security.  A lot happens behind the scenes in a real estate agents life, with buyers and sellers hardly seeing some of the foolish things we have to work around. I've jotted down three annoying parts of the selling process, that may actually slow down the sale of your condo… and they are:
Issue #1 – The Lock Box
As a downtown Realtor, I have to deal with these steel boxed pains on a daily basis.  Lock Boxes are where the keys are kept for the units we show.  Every building has it's own policy on where the boxes can be kept…  Unfortunately the majority of condo corporations don't allow the lock boxes to be kept inside. Instead, many condos have bylaws to keep them OUTSIDE of the building (typically on a fence with 20 other lock boxes).  Ummm hello!?!
You'd rather have the boxes that contain access to your building and parking on some random fence???  Not only is it totally unsafe….From a Realtors view, it's also incredibly annoying.  We're stuck sorting through various box's, hunting for the right code to match the box.  If you're a Realtor reading this post – SPRAY PAINT YOUR BOX A BRIGHT COLOUR (see mine below), PUT A RIBBON ON IT, OR AT LEAST ATTACH A BUSINESS CARD. Secondly, this is Toronto and our winters get cold, like REALLY cold, which sometimes causes the boxes to freeze.  I've seen several colleagues get fed-up and skip the showing altogether because the box wouldn't open.
THE SOLUTION: The most effective system I've seen is numbering each box and storing them with a concierge.  Each time the key is needed, a log is created which reduces the chance of keys going missing. If your building doesn't have a concierge, a dedicated space in the main entrance in view of a camera makes for a great spot to store the keys! Inside is much safer than on a random fence or bike rack, it reduces the likelihood of a frozen box and allows showings to happen much more faster and efficient.
Issue #2 – No Photos in the Common Areas
Ok, so the year 2013 and it's damn near impossible to not have your dinner end up on Instagram/Facebook/Twitter. Yet the second I snap a picture of a condo lobby, the concierge is demanding I delete it at once.  I can understand if I had taken a picture of a person that didn't want to be in it… but no, just a plain simple lobby and I get hounded like i'm a Russian spy or something! The whole point of a "condominium" is to  jointly share the common elements… ie the lobby.  When you buy into a building, you're also buying into it's common elements therefore when you're selling your suite, you have to show the shared spaces as well! (photo below was taken at 21 Nelson aka Boutique Condos and their concierge was SUPPPER friendly and very easy to get along with)
THE SOLUTION: I get that the root of this by law was probably to protect residents from having people snap shots of them in the pool or gym areas, and for that reason it makes sense.  But limiting photos in other areas like Game Rooms, Library's and Lobbies is foolish especially when I'm trying to market a unit for sale…afterall, it's the entire package that people !
A simple solution would be for the condo corporation to hire a professional photographer and take stock photos of the common areas for residents and their Realtor to use.  It may set the condo corp back a few hundred bucks, but it will most certainly provide value for sellers in the future!
Issue #3 – No Parking for Realtors
Not to sound cheap, but this reallllllly bugs me!  Driving downtown is hard enough… adding 20,000 new units per year isn't making the roads any less congested.  Parking is almost impossible at peak hours, so like most Realtors I find solace in a buildings visitor parking. Yet in certain buildings, the concierge enforce a strict "no realtor parking" rule. We're only in a building for about 20 minutes… 60 at absolute worst. Granted, some buildings only have very few visitor parking spots and for those condo's I could understand why a rule like that would be needed BUT the condo's I typically have issues in have tonnns of free spaces!
THE SOLUTION – just let us park.  We're in and out so quick that even reserving one or two spots during the day would make a world of a difference! (Full Disclosure: car below is not mine, though I wish it was)
Granted, I get these issues aren't of recession proportions but fixing these minor problems would make the process a bit more efficient for everyone!
UPDATE: looks like Realtors from other parts of the Country have their issues with management too! Krystal Hess from Ottawa had this to add:
1. Property management is NOT taking good care in regards to maintenance of the building. Make sure your condo board has hired a good PM with good maintenance staff.
2. Mechanical issues. If your elevators aren't working. Please , please , please, as residents and owners make an issue out of this. All elevators should work, especially when hosting over 200 units.
Move over hoarders… there's a new sickness in town, and I've got it bad!  I'm a self proclaimed tee shirt FREAK!!! From Rolling Stones concert tee's sold in the 70′s, to limited edition Billionaire Boys Club shirts there is no limit to what I must have… and don't get me started on my most prized black on black tee from the fashion house formerly known as Yves Saint Laurent.
Sadly, with all things of value comes the threat of damage, loss or in my subject of collection – a feast by those vile moths and their appetite for fresh threads! Most of my tee's have crazy cool prints on them, so I thought what better way to show them off than in a picture frame, and letting them hang like art.  From that idea came the hunt for the perfect frame.
After countless hours of googling for inspiration, the solution was found in my back yard… well actually downtown!
Umbra has teamed up once again with the Pratt Institute in NYC for the 8th annual Umbra/Pratt Design Competition. The annual competition provides an invaluable educational experience for industrial design students to hone their skills. There's the possibility of having a design produced by Umbra and royalties from sales support both the students and school.
The 2012 winner of the Umbra/Pratt Design Competition, T-FRAME, was designed by Caleb Ferris and Prakhar Mehrotra. This clever frame allows you to preserve and admire that all-important T-shirt instead of relegating it to obscurity in a drawer. Umbra's T-Frame turns a tee into art, creating an homage to a sports legend, a concert or a special cause.
As t-shirt lovers, Caleb and Prakhar were inspired to design a product that preserved the iconic shape of a t-shirt while creating a way to display it in just five simple steps. T-Frame comes with a template showing how to stretch and fold the tee over a foam form followed by added support and backing to assemble a unique piece of art.
The frame retails for $40 and is available both online and downtown location at 165 John St (just north of Queen between Spadina and University). The frames are perfect for that man cave you've been meaning to build… just imagine all of your Jerseys, proudly on display!
If you're looking for wall to hand your shirt on or a basement to convert into a man cave, give me a call… I'd be happy to help!
Let's face it, the Monday after St. Patty's day is never an easy start… so grab your Blarney stones and listen up, because my good friend Corinne Korytkowski has some green coloured inspiration to brighten up your week and winter!
After a long, cold and dreary winter, there's no better way to celebrate the energy of a new season than to spruce up your home. With spring right around the corner, it's the perfect time to freshen things up. Some spring cleaning might mean that you toss out those items you've been hanging onto for years "just in case you need them". You might also decide that you need to change your decor. After all, your home is your sanctuary – you should feel great in your space. This year's trending colour will definitely add some spice to your life. Emerald green is proving to be the hot colour of 2013.
Incorporating a new colour really doesn't take much. An accent chair, brand-spanking-new throw pillows or even a lamp can instantly change the feel of your living space. Introducing a new colour accent will always add a new dimension to a room. As Lisa Reis of Decorista.com explains, "If you're tempted to use this vibrant colour but are a bit paint shy…try emerald green with something that's easily replaced: lamps, vases, small appliances, curtains or chairs. Even if you grow tired of the colour in a few years, it may bring you out of your shell." For those who are more bold, a new coat of paint (even just an accent wall) can really make a difference.  The most important thing is to have fun with it all. Head out on a sunny weekend for a stroll through your favourite home furnishing store and find pieces that make you smile. Life is too short to live in a space that doesn't inspire you.
Corinne Korytkowski is a Brand Coach + Consultant who works with entrepreneurs to create business opportunities around the skills and passions that drive them… she's been busy working on a crazy cool website that you'll totally want to check out in the coming weeks!